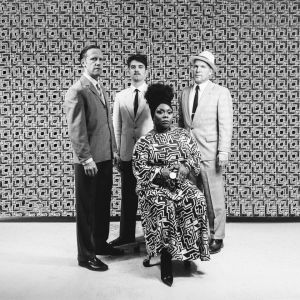 Michelle David & The True-tones
Nothing short of a miracle was the past year and a half for Michelle David & The True-tones* (FKA Michelle David & The Gospel Sessions). After releasing their album, 'The Gospel Sessions Vol. 3' they were nominated for an Edison Award (The Dutch Grammy), chosen for album of the month by French radio network FIP, made an appearance on prime time German national TV as well as Dutch national TV. Being invited to perform for the King and Queen of the Netherlands for Liberation day was definitely a highlight. All while roaming the continent (even a short and sweet meet with Africa).

Journeys are greatly influential for all of us and this is especially the case with Michelle David & The True-tones; who are on their odyssey reaching many levels. Their musical journey exploring the roots took them to the caribbean: reggae/calypso 'Oh My My', Africa 'R'Fissa' which was written after their trip to Morocco and 'Myshel', 'You Are' give you the feel of Nigerian Afro Disco and Afro Beat. This album has also paid tribute to Soul music with sounds of Northern Soul, Boogaloo, Afro Soul with a combination of Chicago and Memphis Soul. Under the impact of these influences they found their true genre - Rhythm and Gospel.

Vol 3 theme was one of hope, strength and empowerment which was exuded throughout the tour. During this period there was also a very personal occurrence, a tragedy unfolding. To everyone's shock, Michelle was diagnosed with breast cancer. Tremendous support, a positive attitude with both a firm and courageous will rendered a successful recovery. The new keyword for Vol 4 became Victory! The lyrics are of a celebratory fashion that is engulfed with positive affirmations. The end result personally and musically are triumphant.

Having all these profound influences and events behind them, this album is the most colourful and diverse piece of work they've created so far. While holding fast to their core essence of being authentic and organic it was important for them to further develop their growth. Incorporating more strings, percussion as well as horns and even analog synths has helped to evolve Michelle David & The True-tones as a complete band.

"Feeling good and allowing yourself the freedom to "Let Go" is without question the foundation of each and every song. The evolution of Michelle David & The True-tones is inspiring, exciting and life changing ." - Michelle David.

*On April 23rd 2021, the band changed their name to 'Michelle David & The True-tones'. The new name allows them to continue expanding and integrating more musical influences that compliment their style. The band assures fans and those alike that although the name changes, the substance remains the same. This desire is to bring people the true message of music which is LOVE, UNITY and TOGETHERNESS!